Just because you live in a small space does not mean you have to feel cramped in your own house.
Follow these tips to make small spaces seem bigger:
Minimalism Is Trendy
Avoid trying to force furniture in a small room. With small spaces, a minimalist approach works best.
This may seem like an easy tip but is very difficult to apply. Take a look around your living space and get rid of the extra chairs and decorative items. Be it your bedroom or living room, keep it neat and simple.
Paint It White
Dark colors have the tendency to make rooms appear small and closed off. If you already have a small space to work with, paint the room white and see how it brightens up the room.
The natural light from the windows will reflect on the walls and give a more open and refreshing vibe.
Leveraging "Nesting" Pieces
Want a coffee table that seats six people but don't have enough living room space? Go for nesting pieces that have detachable pieces, which let you accommodate more people.
Another cool way to open space and fit "nesting" pieces is by stashing ottoman chairs underneath console tables. They can be put underneath the coffee table and taken out when you need additional seating or a footrest.
Open Shelving
Keep your floors clean and arrange an open shelving system to display your belongings. It will help keep clutter at bay.
If it's a living room space, feature your books, magazines and decorative items sparsely on the shelves.

Maximize Your Living Room Space
Put your furniture in the center of the room and free up sufficient space to move about. If you push them against the wall, it will feel packed and crowded.
Take Advantage Of Corners And Doorways
However, if the room has empty corners, it's best to decorate it with L-shaped sofas that clear the middle of the room.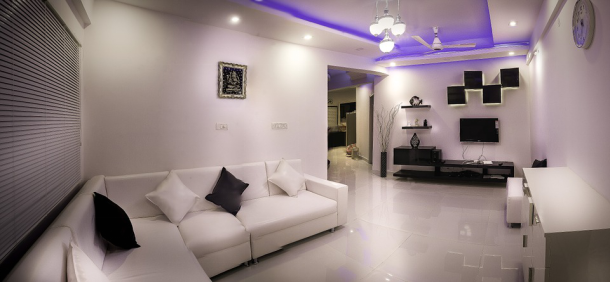 Make clever use of the corners and doorways by arranging the furniture to hug the crooks and crannies to bring out the coziness of the room.
The Importance Of Clean Counters
Make strategic storage decisions with custom cabinetry in the kitchen. Kitchen counters are not dumping grounds for your appliances and utensils.
Control the clutter and designate space for each plate and glassware with overhead shelves. Make sure you clean as you go along and put away all kitchen utensils once you're done using them.
Get A Professional to Design It To Perfection
We offer custom home building for residential houses in Shreveport. We are a construction and remodeling company that excels in kitchen and bathroom remodeling.
Get in touch with us and watch your home design ideas come to life with our attention to detail and strategic use of cutting-edge technology.
Call (318) 393-7361 to discuss your interior design ideas today!