Fact: your bathroom is no longer just a place to bathe, it's nothing short of a personal sanctuary these days.
In fact, we have become so obsessed with the room that that bathroom remodels were the most common home improvement project last year!
Furthermore, the investments in bathrooms show no signs of stopping as they're as popular in 2018 as they were in 2017. To ensure that the restrooms of our clients are never outdated, we've compiled a list of the latest bathroom remodeling trends of 2018.
Follow this list to have a bathroom that's always in style!
1. The Return of Mono-colored Bathrooms:
Color coordination used to be one of the most complicated parts of a bathroom remodel. People found it very difficult to find colorful accents that could add some personality and depth to their bathroom without clashing the overall theme and style of the rest of the home.
If you find yourself facing the same problem, we've great news in store; homeowners have completely abandoned using color schemes! Believe it or not, monochromatic bathrooms are all the rage these days.
Their simple yet striking style, monochromatic bathrooms are easy on the eye and go well with most interior designs. These days, homeowners prefer using white or grey tiles with LED lights that can add a very bright touch to your restroom!
2. Minimalistic Designs:
The message of less is more has become increasingly popular over the years. Therefore, it should come as a surprise to no one that minimalistic bathroom designs are as popular as they were in 2017.
The surprising aspect of minimalistic designs is that they still somehow manage to increase the storage in your bathroom. This design opens the floor space for baskets or wall space for towel racks. Whatever the reason may be, minimalistic designs are incredibly popular these days and can even increase the market value of your home!
3. Hardwood Flooring:
2018 has also brought about the return of hardwood flooring. Given the fact that they're mostly made from biodegradable materials, hardwood flooring is a green option for homeowners to consider.
Another impressive feature hardwood flooring has is its durability. Made from chemically-hardened wood, this flooring option is a sturdy like tiles.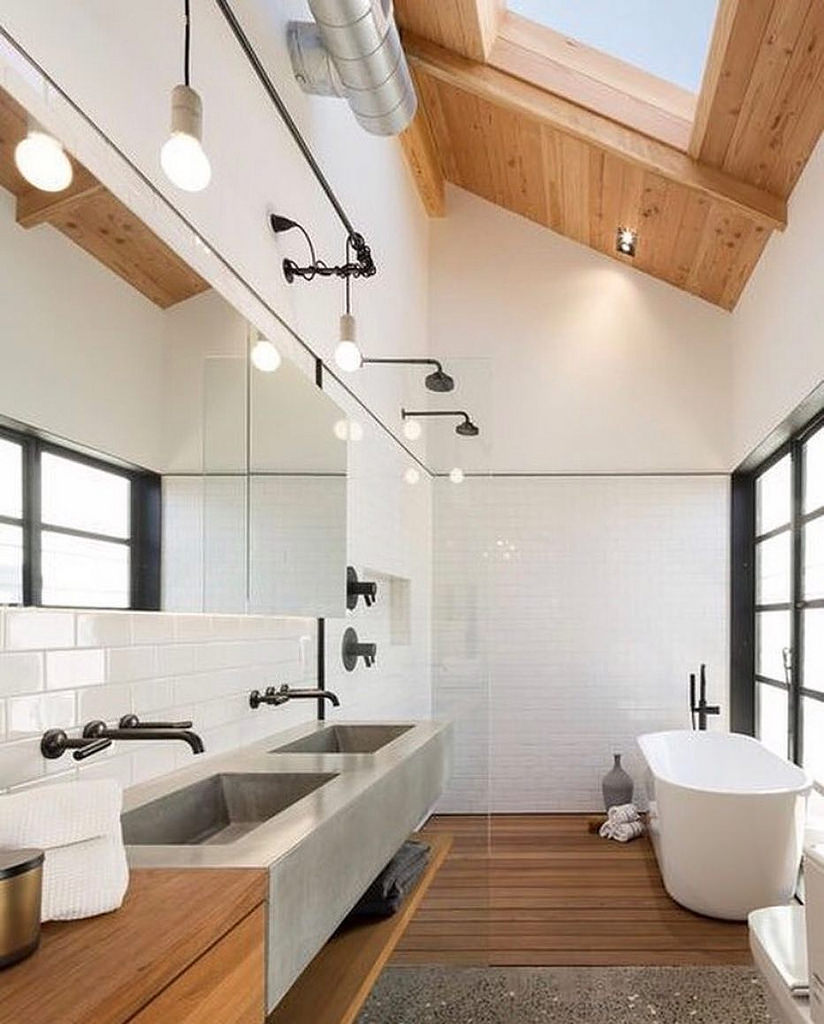 That being said, it's worth mentioning that hardwood flooring can be extremely expensive, with the national average being around $2,545 and $6,479! This can increase the price of the project so we wouldn't recommend this to anyone looking to renovate their bathroom on a budget.
And that concludes our list of the latest bathroom remodeling trends of 2018. To incorporate any of the above-mentioned items in your next bathroom remodel project, get in touch with us today.
We at Showcase Homes and Remodeling are known for our custom bathroom remodeling services in Shereveport and Bossier City that are as reliable as they're effective. Don't hesitate to get in touch with us for more detailed information about our services or our pricing. We look forward to hearing from you soon!